Burlesque, Theater, Kink, Comedy, Improv, Flow Art, Drag, Aerial in an erotic-noir cabaret show.
It's a night of seduction and suspense created by Shay Au Lait and produced by Siren Pack Productions.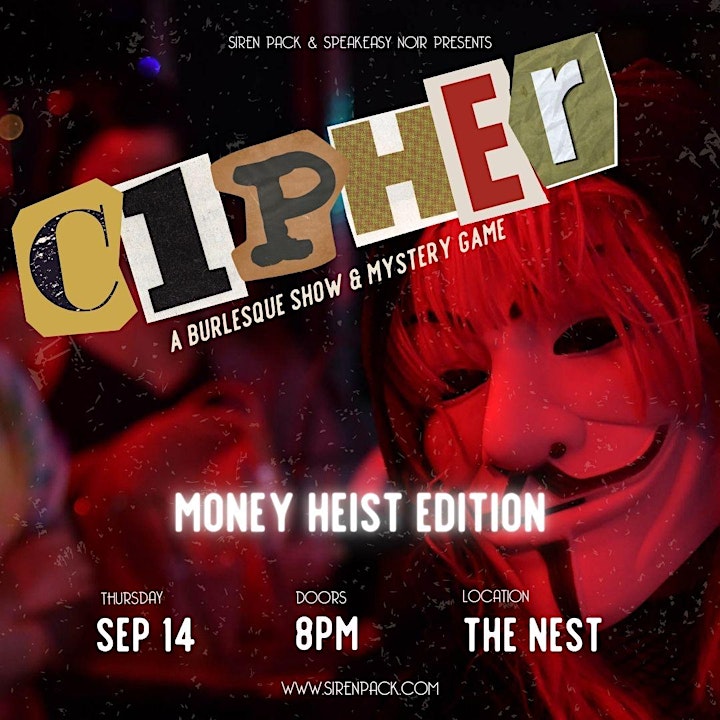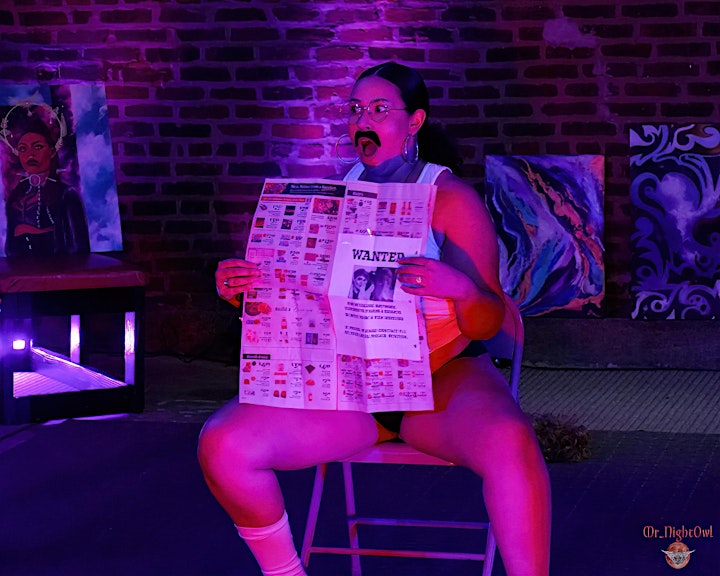 CIPHER is a thrilling and entertaining evening filled with provocative seduction and heart-pounding suspense, where every twist and turn shrouds the truth in shadow.
Each month a new case, thrill or mystery presents itself! Our OCTOBER show theme is the MONEY HEIST EDITION.
This immersive and interactive experience features
Shay Au Lait - The Typhoon of Temptation & Kinky Siren Switchress
Alaska the Lost Boy - The Throat Goat, Sword Swallower & all around Danger Artist
Queen Nzinga - Queen of Hearts, Award-winning Professional Performer & Twerklesque Instructor
Fae Fatale - Professional Aerialist, Theatre Artists, CoProducer of CirQueer Productions, A Pack of Queers and Siren Pack.
GingerPuss - Drag creature, Aerialists, Pole Dance, Kink, Chaotic Genderqueer Zaddy & CoProducer of CirQueer Productions
Justin The Card Reader - Cenobyte, Gnostic, Anti-Hero & Afro-Latine Bruj NeoPagan
DJ Honeyblunt - Philly's Only Female Strip DJ
ADDITIONAL ANNOUNCEMENTS COMING SOON! Our cast and production team features BIPOC, Trans and Queer artists of all body types.
Follow the clues and unravel the mysteries where secrets lie hidden, and desires dance in the darkness.
Show elements include - Burlesque | Cabaret Singing| Kink & BDSM| Aerial | Spoken Word | Drag | Flow Arts | GoGo Dancing | Comedy | Improv
TICKET TYPES - Choose Your Access Level
TIXS ONLY AVAILABLE IN ADVANCE. All ticket types include :
Admission into the CIPHER experience
Intentional and consensual presence and participation (Siren Pack shows are immersive and interactive. Choose your own journey and experience. Presence could simply be enjoying the show while tipping our performers. Participation might be helping to place a clue somewhere in the CIPHER world, call and response or a popup moment with a performer or artist.)
Libations - Two complimentary drinks from our various show options.
Day Of Membership Pass into The Nest, a private members club
TICKET TYPES OPTIONS
$45 for Reserved Access: This ticket includes early entry beginning at 8:00 pm & reserved seating with preferential views. After 8:30 pm, you may be seated at the discretion of the House, which may include forfeiting your seat. If you arrive late, you may have to stand for the duration of the experience.
$40 for Reserved Group Access: For groups of 4 or more, this ticket type is the SAME as our Reserved Access, except you receive $5 off per person with your minimums purchase. This ticket type is perfect for celebrations, squads, double dates, polycules, birthdays, bachelor(ette) parties, and large groups.
$35 for Entry-Level Access: Standing room ticket holders may be standing or possibly seated if any seats remain after 8:45 pm. This depends on availability.
About Siren Pack:
An immersive & subversive burlesque variety company producing provocative experiences. Created in 2018 by a collective of BIPOC Queer Femme Producers, Siren Pack is known for its theatrical erotic shows,, corporate entertainment productions, and immersive event activations. https://sirenpack.com
About The Nest:
The Nest is an artistic and alternative community collective that works to foster creativity, authenticity, self expression, inclusivity, and safety. It boasts a whopping 4,800 sq. ft. of total space with a variety of configurations. https://www.instagram.com/theowlsnestgroup/
About SpeakEasy Noir:
SpeakEasy Noir is a mind-body erotic wellness practice and immersive movement experience for intensely sensuous and deeply curious souls. Explore power, pleasure and play through archetypal exploration, sensual movement, erotic expression, freestyle flow, photography, burlesque, pole dance, enchantments, mind-body rituals, and creative healing arts. Explore shadow play for your shadow work. https://speakeasynoir.com/about/