**THIS IS NOT AN ONLINE EVENT. THIS IS FOR AN IN-PERSON PARTY.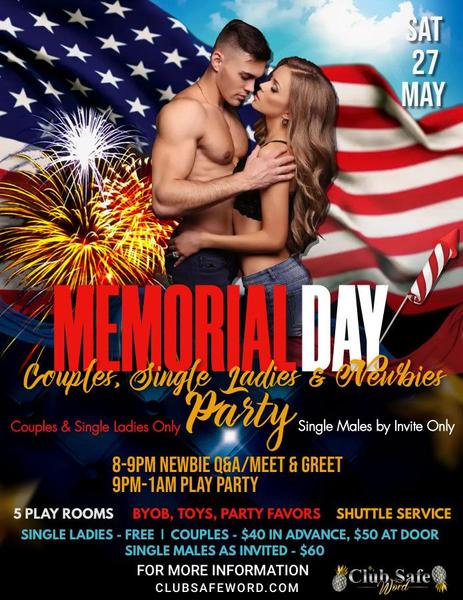 **This Party is restricted to Couples and Single Ladies! Single Males can only purchase tickets if invited by another couple/single lady.**
*Co-Hosted by Couple In4Life!
Welcome to our Lifestyle Play Party!
Meet and Greets are encouraged for all to attend, not only as an icebreaker, but also to meet (and potentially convince) new members to stay for the play party! For quicker check-in at a Play Party, please register for Membership on www.clubsafeword.com
Membership Currently $12.99 a month(3 mo=$33, 6 mo=$52, 1 Year=$90)
If you are a member of an affiliate collaborator Club, please register and contact us to gain premium access!
Event Times:
Open 8:00 PM 'til 9:00 PM for the M&G, Q&A available for couples and newbies!
Open 9:00 PM 'til 1:00 AM for the Play Party
Event Information:
This event is intended for couples, single ladies, and select invited single male interested lifestylers. For those new to the lifestyle, we are offering a Q&A session by another couple experienced in both the attendee and party host perspective. Sexy dress attire is encouraged, but not mandatory. Casual dress attire (think something you'd wear to a dinner restaurant) is minimal dress code requirements. Music maintains play throughout the event with the exception of announcements. Dance floor is open throughout the event.
BYOB for the play party! Basic drink accommodations will be provided (sodas, water, juice mixers).
If you need a special mixer you can bring that as well and we will store it with your provided alcohol of choice. Bar check-in is located upstairs in our kitchen area, when you want a drink simply check in with the bartender and they will help you.
All Bartenders are volunteers and graciously accept tips.
FREE House Provided Accommodations are provided and generally are directed around the theme (if any). 
The Location Details
2400 Square Feet of private party space!
Dance Floor with Professional DJ Lights and Sound
Bar and Lounge area
On Site Play Areas with varying degrees of Light
Beds, couches, and various furniture fixtures for play.
Private Play Room (30 minute time limit please)
Sexy Playrooms with a view of the city
Group rooms with original artwork
3 Restrooms - Ladies, Gentlemen & Gender Neutral (1 bathroom in unit, 2 (male/female) in the hallway)
Sexy Co-ed Shower Room
Strong Central HVAC for a comfortable feel all year. Mini fans in every room to help circulate airflow
Limited Locker Availability, first come first served.
This event is designed to bring out your lifestyle friends and encourage you to make new ones!
RSVP/Purchase Tickets for additional information including venue address, parking, and shuttle information.
Call for more information: (619) 354-7977
Who's Invited: straight couples, couples with bi females, couples with bi males, bi couples, lesbian couples, gay couples, transgendered couples, single straight women, single bi women, single transgender