Welcome to our Lifestyle Play Party!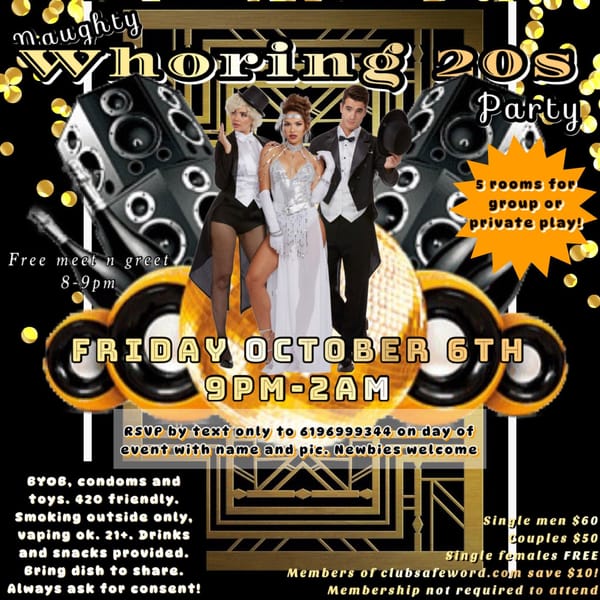 Meet and Greets are encouraged for all to attend, not only as an icebreaker, but also to meet (and potentially convince) new members to stay for the play party! For quicker check-in at a Play Party, please register for Membership on www.clubsafeword.com
Membership Currently $12.99 a month(3 mo=$33, 6 mo=$52, 1 Year=$90)
If you are a member of an affiliate collaborator Club, please register and contact us to gain premium access!
Event Times:
Open 8:00 PM 'til 9:00 PM for the M&G 
Open 9:00 PM 'til 2:00 AM for the Play Party
Event Information:
Cum out for some kinky fun with local sexy sinners at the newest venue in downtown San Diego! 5 play rooms for private and group play. Open to couples and singles!
FREE Meet n Greet 8-9 pm and play party will start right after
birthday gifts always accepted cash app $rosesandiego or Apple Pay/Zelle 6196999344
Potluck event, bring a dish to share. Bring your own alcohol, condoms and toys. Parking can be tricky so carpool or ride share is encouraged. There's a parking lot in north on the same street as the club about a block and a half away. Smoking allowed outside only but vaping is ok inside. Newbies must RSVP to 6196999344 with name and pic on day of event. Snacks and mixers provided. There are cubbies and lockers available so you can change. You can bring your own lock if you'd like.
MEMBERSHIP NOT REQUIRED
This is not the only guest list. Events are promoted on different social media platforms and lifestyle sites.
Lifestyle rules are enforced: always ask for consent, anything other than a clear yes means no! Pictures and videos are not allowed! You will be asked to leave without a refund if you don't follow the rules.
Members of Clubsafeword.com save $10!
FREE House Provided Accommodations are provided and generally are directed around the theme (if any). 
The Location Details
2400 Square Feet of private party space!
Dance Floor with Professional DJ Lights and Sound
Bar and Lounge area
On Site Play Areas with varying degrees of Light
Beds, couches, and various furniture fixtures for play.
Private Play Room (30 minute time limit please)
Sexy Playrooms with a view of the city
Group rooms with original artwork
3 Restrooms - Ladies, Gentlemen & Gender Neutral (1 bathroom in unit, 2 (male/female) in the hallway)
Sexy Co-ed Shower Room
Strong Central HVAC for a comfortable feel all year. Mini fans in every room to help circulate airflow
Limited Locker Availability, first come first served.
This event is designed to bring out your lifestyle friends and encourage you to make new ones!
Call/Text for event information (619) 699-9344
Call for venue information (619) 354-7977
RSVP to the event on clubsafeword.com to automatically receive address, parking, and shuttle information!
Who's Invited: straight couples, couples with bi females, couples with bi males, bi couples, lesbian couples, gay couples, transgendered couples, single straight women, single bi women, single straight men, single bi men, single gay men, single transgender