Join us for the transformative experience of a women-only, weekend retreat focused on increasing our experience of pleasure!
Have you found yourself at some point questioning:
Why don't I want to have sex?
Why does it take me so long to orgasm?
Why aren't my sexual needs being met and I feel so frustrated? HELP!
How can I connect deeper with my partner?
I've never orgasmed, am I broken?
Why do I feel lonely even when I am being sexual?
Is it okay that I have to use sex toys for pleasure?
What do other women experience in their sex lives?
If you have ever asked yourself questions like these, this workshop will support you to get to know yourself and your body better and help you to increase your experience of pleasure - in sex, but also in your life!
In every moment you are always at choice. When women get together with open hearts, something so magical and profound happens and we become teachers for each other.
We are going to experience the gift of women nurturing each other on all levels: eating together, cuddling, deeply sharing with each other, holding each other hearts and supporting each other.
For this workshop we are beyond excited to have Francoise Ginsberg, Ph.D joining as a Special Guest Facilitator. Francoise is going to share her Tantra expertise by offering 2 Pujas throughout the weekend.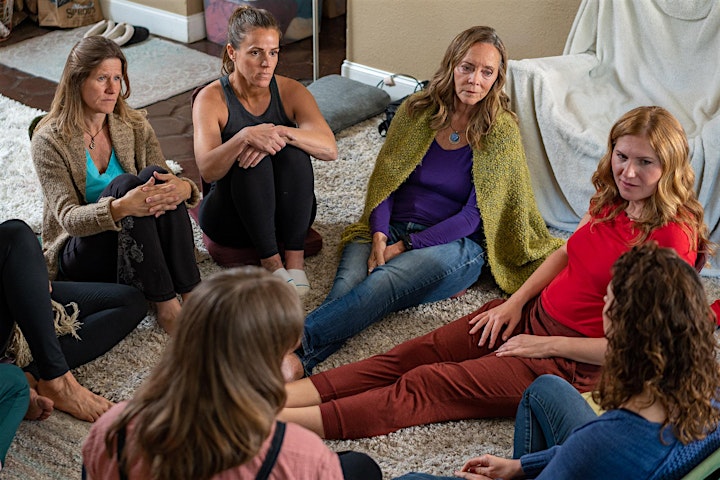 In this fun, deep and expansive workshop you will ...
Awaken your inner Goddess
Heighten your ability for pleasure
Honor and appreciate your body
Release shame around sexuality
Discover the secrets to multiple orgasms
Become friends with your desire
Learn the art of 'Sensual Mapping'
Increase your understanding of female sexuality
Learn how to ask for what you want
Uncover the secrets of the G-Spot
Experience deep emotional intimacy
The workshop is clothing optional
During a gentle disrobing exercise you will have a choice to remove all of your clothing, some of your clothing, or to keep all of your clothing on. Every choice is honored, and there is no pressure to remove any clothing. Many of us find that when we remove the layers of clothing we also remove a layer of emotional armor, that we have more access to our feelings, and can connect more deeply with others on our journey of self-expansion.
Location
The retreat will be held in the Cactus Blossom Retreat Center which is located about 1 hour drive from San Diego and 2 hours drive from Los Angeles. It's a perfect place to unplug from everyday life activities and to emerge in nature with quietness and stunning views like mountains and bright stars at night.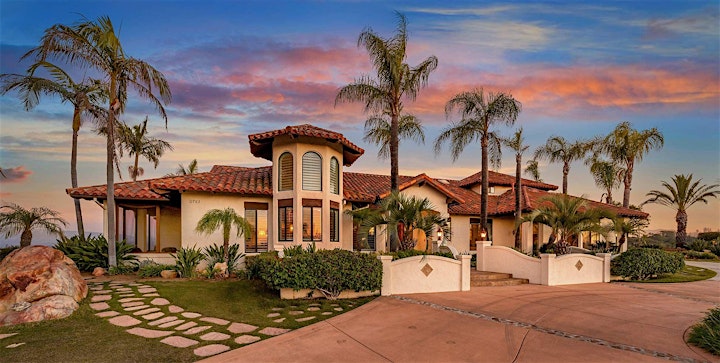 Hot tub and swimming pool
During the breaks you will have an opportunity to soak in the hot tub and enjoy the pool. Even the workshop is clothing optional you are at choice to bring a swimming suit or not. The space allows you to be on your own and process, dive into your thoughts, journal or to connect with other participants and experience a beautiful sense of community. You are always at choice, every step during the weekend with us.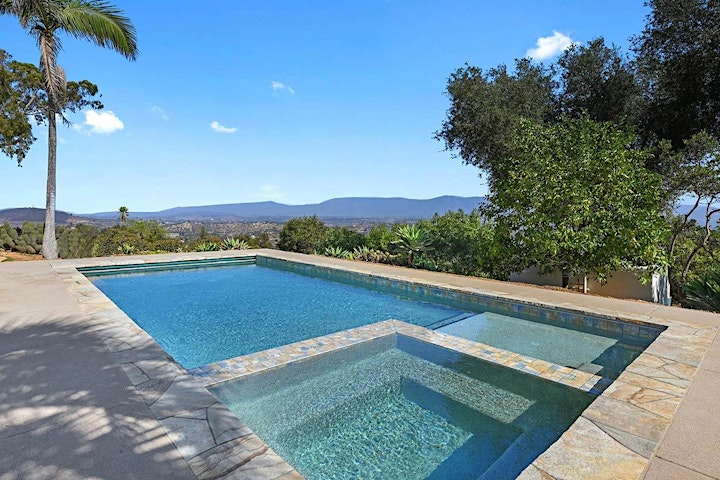 Food
We will be serving delicious yummy foods, drinks and snacks throughout the workshop.
Friday - lunch, dinner.
Saturday - breakfast, lunch and dinner.
Sunday - breakfast, lunch.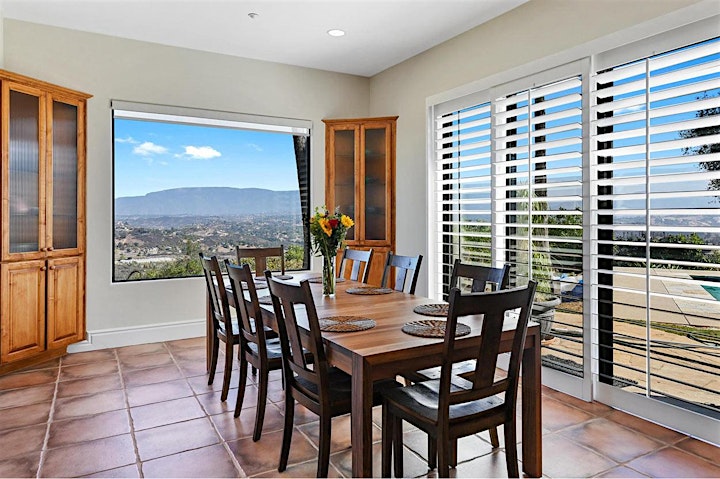 Time
The doors will be open at 9 am PST for people to arrive and settle in. We will start the workshop promptly at 11 am PST.
Every morning we will have yoga at 8 am, breakfast at 9 am and the workshop will begin at 10 am. Lunch will be served at 1 pm. Every 2 hours we will have a break with snacks and drinks.
Covid Protocol
We do not require vaccination. To make sure that everyone is safe from getting Covid we are going to test everyone before letting them into the workshop space. Upon arrival everyone will be asked to wear a mask and keep the distance until their test is done and negative. In case if a participant tested positive we will ask them to leave and will refund the money.
Masks won't be required during the workshop.
Accommodations
There are several options for you to choose from. To sleep in a queen/twin bed in a shared room, on an air mattress or to set up a tent outside. There is an extra charge for getting a bed with bedding - $100/$50 for 2 nights.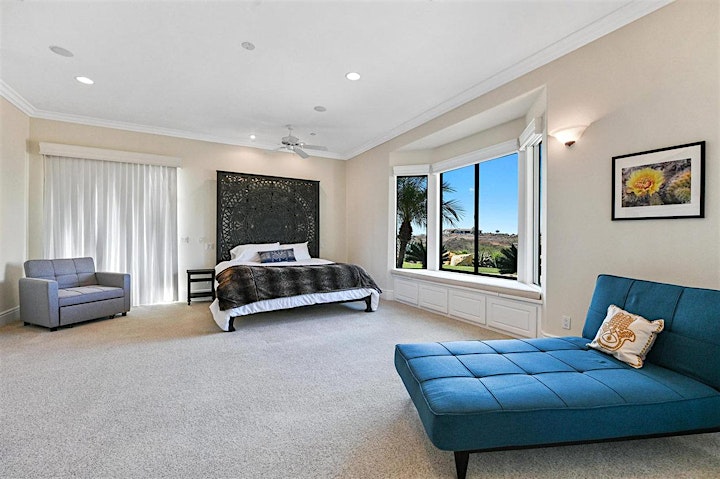 Price
Early Bird price is $674 (till June 15), Regular price is $773. We have scholarships available for those who may need it. Reach out to lyubavenable@gmail.com
Contact us
With any questions you might have, please reach out to Lyuba by email - lyubavenable@gmail.com or text/call (408)306-1977
Facilitators: Sarah Sandhill, she/her and Lyuba Venable, she/her
Sarah has been a Facilitator for the Human Awareness Institute and Sex Educator with over 20 years of experience. She coaches individuals and couples, specializing in relationship and sexuality issues. Sarah's down-to-earth, nurturing style creates a safe space for women to explore and celebrate their sexuality and womanhood.
Lyuba is a coach, trainer and public speaker in Northern California. Through her open and vulnerable speaking style, Lyuba leaves audiences inspired, open to honesty, and interested in new possibilities. Having learned from Master Mantak Chia, Charles Muir, Somatica and the Human Awareness Institute, Lyuba marries multiple disciplines together in her online workshops.
Special Guest Facilitator: Francoise Ginsberg, Ph.D, she/her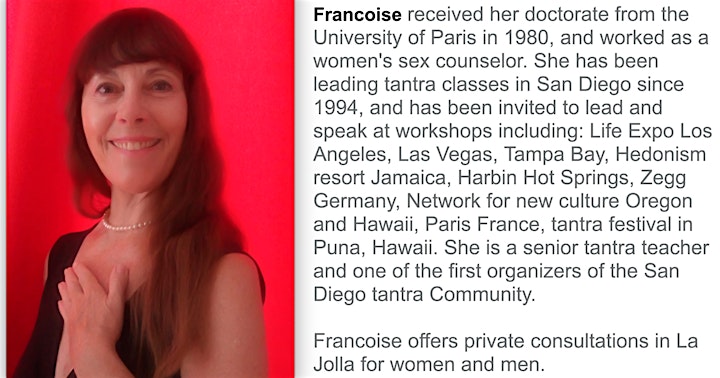 This is what participants have said about the workshop.
I went into the "Exploring Your Pleasure" weekend with hesitation in that I saw myself an older, heavier lesbian and felt quite self conscious about it. I wondered if there would be other queer folks or, would my queerness "other" me in this retreat? I discovered that it doesn't matter who or even how we love. The women identified in all sorts of ways. Our intersection is within the profound need to remember self love. A sisterhood of women-identified humans holding and supporting each other. We were reminded or perhaps, for the first time being taught how to love our own bodies, yoni's and desires. I cannot emphasize enough how beautifully facilitated this workshop was.
After the workshop, I am transformed. And I know that's such a hippy thing to say - but it's true. Ive had a hardness in me, related to my relationships with women, that I've been trying to break down for years. And I now feel like I'm in the world really connecting with women…I genuinely see each woman as my sister.
I haven't had a slumber party with 'the girls' in thirty years. It feels like Im sparkling!
I felt free after the workshop. I was able to let go of these layers of myself - like shame, feeling uncomfortable in my body - I was really able to let go of all of that. I felt connected to myself and I felt connected to other women.