IN PERSON CLASS: Learn to hit your friends - safely! We will go over negotiation, consent, and lots of ways to play with impact.
We will be checking vax cards at the door and while masks are not required we do suggest you wear one when not actively eating or drinking. Please stay home if you are not feeling well and we will refund you.
Curious about adding some impact to your life?
Impact is one of the staples of the dungeon. Over-the-knee spanking, flogging, caning, and whipping, these activities all add to your play and enhance the power exchange already happening.
In this class you will learn about negotiating impact play, how to play safely, and how to lean into the mental aspect of impact play. The focus will be of spanking, caning, flogging and whipping, and a little show and tell of the toys involved from Sub Rosa's collection, as well as from Natasha's private collection. Natasha will be assisted by Susie, a submissive sadomasochist with a passion for service and teaching. She has been active in kink communities across the country for the past 14 years. Natasha and Susie have played together for most of that 14 years and bring their own playful chemistry into the classroom creating a fun environment in which to learn about scary things.
This class is good for people looking to receive impact play, as well as give. It will be directed towards those newer to the kink scene or those seeking a refresher.
About Princessa Natasha Strange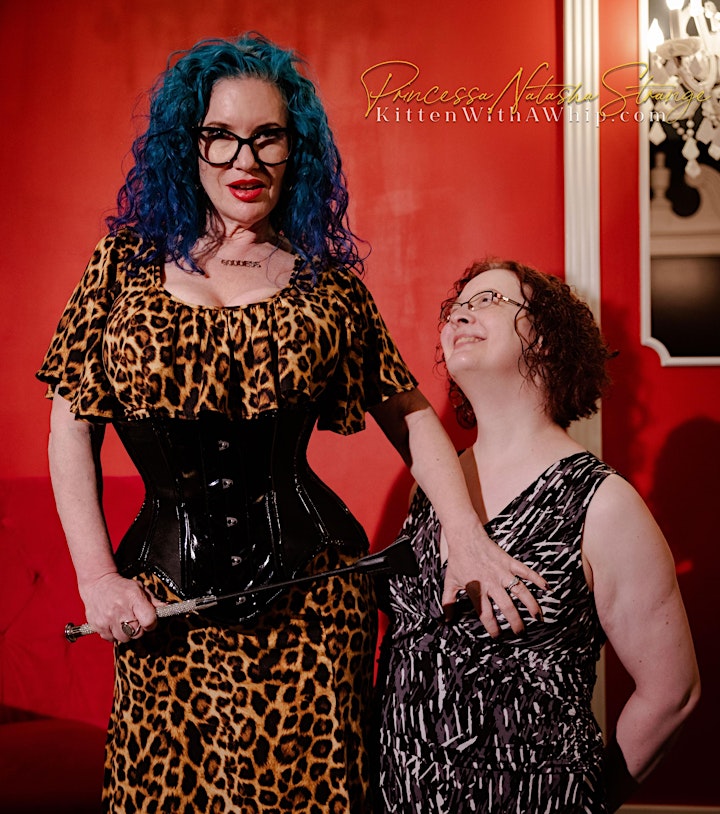 (photo - Natasha and susie in their natural states)
Natasha Strange is a professional dominatrix and kink educator offering sadistic escapism. She has been playing professionally for nearly 30 years, and in her personal life for much longer. She offers creative sessions in a wide variety of disciplines. She called San Francisco home as she traveled the world spreading her special brand of sadistic love, before moving to Portland in 2016. She is the author of a BDSM primer for adults who are curious about kink called Kink for the Curious. It's full of color pages, fun activities, puzzles and solid information about kink, consent and communication. You can read more about her at www.KittenWithAWhip.com.