Do you want little bites of A LOT of kink?
Are you new to kink and don't have an idea of where to start
Do you have some experience in BDSM and kink and want to increase your skill set? 
Do you want to learn kinky skills in a decolonial space?
If you answered yes to at least one of these questions, then this AMAZING Kinky Skills retreat is for you! 
Join us at Kinky Tapas, October 13-15, 2023, Portland OR at Sub Rosa PDX
What will you learn at Kinky Tapas?
In this 2 day, hands-on kinky skills intensive, you will learn powerful BDSM skills. You will build kinky skills in a small group with two trusted Kink Educators. Find your authentic kinky self at Kinky Tapas through play, exploration and education.
Luna and Marla have combined their extensive sex and kink knowledge to bring you an exclusive weekend kink event. You will learn erotic tactics, techniques and tips for the kinky pleasure YOU want to create. 
Get little bites of a lot of kink!
What kinky skills will you be getting? We created a space to develop emotional and technical BDSM and kink skills. At Kinky Tapas, you'll improve your kinky play with tools like:
Confidence and erotic creativity
Scene Setting, Safety & Communication
Commanding a Room
Developing confidence and presence
Dominant Do's and Don'ts
Submissive Communication Skills
Rope Bondage
Spanking & Other Impact Play
Choking & Breath Play
Sensation Play
Genital Worship & Torture 
Strap-On Play
Butt Play
Fluid Fetishes
Skills for Subs
Common Fetishes  
....and more depending on the interests of the group
You'll develop practical kinky skills at a beautiful and well-equipped Sub Rosa dungeon in Portland, OR. You get to understand BDSM with both hands-on and theory-based tools. Marla and Luna have created an exclusive space for you to get a feel for what it's like to practice in a supportive space. You don't want to miss out on the demonstrations of kinky activities by Marla and Luna!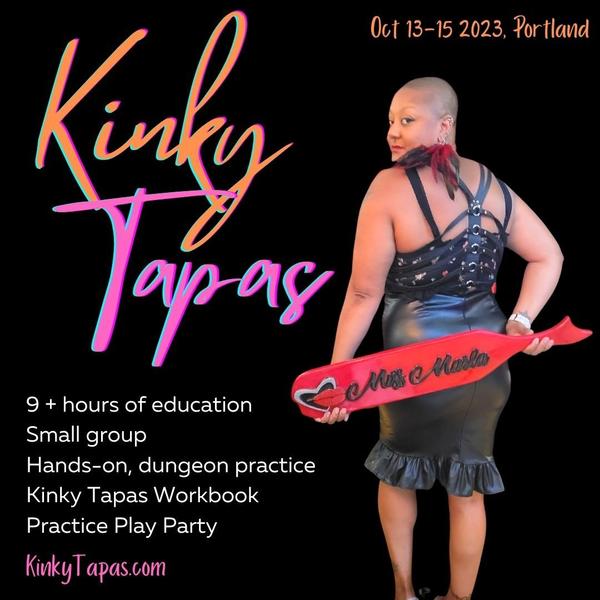 Want to meet participants before we get there? 
You will be able to join our online membership community so that you can introduce yourself and connect with other participants.  We will also have a Kinky Tapas meet and greet the day before the weekend intensive begins and a celebratory brunch on the last day.
What's included in your Kinky Tapas tuition?
Teaching from highly experienced kinksters, Marla Renee Stewart & Luna Matatas
12+ hours of powerful kink skills education
A decolonial approach to kink education - inclusive of gender and racial diversity
Hands-on practice a beautiful and well-equipped dungeon
A Kinky Kit - packed with bonus goodies and toys
Kinky Tapas Workbook - 29 pages of kink tips, exercises and ideas 
Breakfast and lunch catering with snacks during Kinky Tapas
Personal vetting certificate signed by Luna & Marla
FREE access to optional kink play party hosted by Marla and Luna at the dungeon
Access to our exclusive membership community
Private Play Party supervised by Marla and Luna (you can bring a partner or a friend to practice on)
A small group learning experience and kinky community building
Ready for the kink education magic of Luna and Marla?
Secure your spot at Kinky Tapas 2023 and be a part of this exciting kink intensive. More kinky skills means more pleasure for you and your partners! Join us in Portland, OR at the fabulous Sub Rosa Dungeon October 14-16, 2023.  Payment plans and early bird pricing available! Ask us about Bestie Pricing if you're coming with a friend.
Schedule (Tentative)
Friday October 13 (optional)
7pm - Meet & Greet, location TBD - meet other participants and instructors, grab your Kinky Kit full of goodies and your Kinky Workbook for the weekend.
Saturday October 14 2023
10am - 6pm, In-dungeon (hands-on and presentation style) Education at Sub Rosa PDX
Snacks and lunch provided
*Optional Group Dinner
Sunday October 15, 2023
11am - 4pm, Integration and Graduation, Closing Ritual and Private Play Party Sub Rosa PDX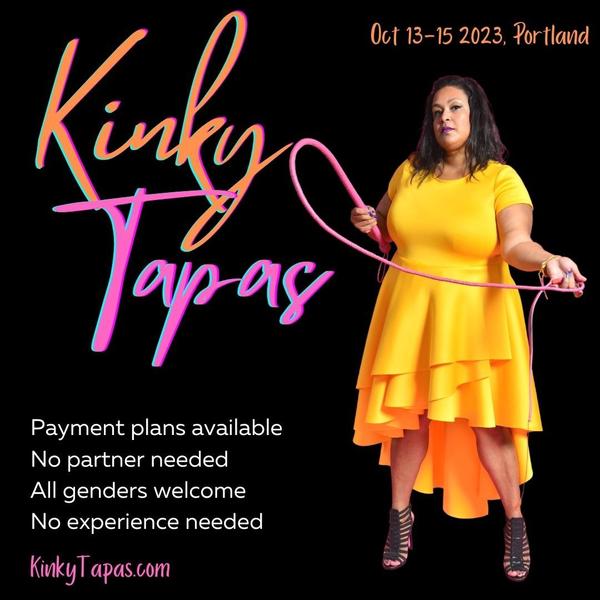 Your Kinky Tapas Hosts
About Marla
Marla Renee Stewart, MA (she/her) is a sexologist, author, and sexual strategist who runs her own sexuality education company, Velvet Lips, and is also a Co-Founder of the Sex Down South Conference. She has studied human sexuality for more than 20 years and has given over 500 workshops all over the world. She also has been featured on a variety of media outlets, including Netflix's Trigger Warning with Killer Mike and Love & HipHop Atlanta. She co-wrote her first book, The Ultimate Guide to Seduction & Foreplay with Dr. Jessica O'Reilly, which debuted in April 2020.
About Luna
Luna Matatas is a Sex and Pleasure Educator with over 15 years of experience teaching sex and empowerment workshops. She celebrates body confidence, self-adoration and building shame-free pleasure in and out of the bedroom. Luna is a creator and facilitator of over 35 on-demand webinars that help people navigate the adult sex education skills we all need. Luna teaches everything from threesomes, to anal, to feminine dominance. She has been featured on countless podcasts and media like Cosmo, Bustle, Men's Health and HuffPost, helping to normalize conversations around shame, pleasure and relationships. She created Peg the Patriarchy® as part of her sex-positive and feminist merchandise.
Questions? Email us! and Check out our FAQS AND TESTIMONIALS HERE