Join us for this LIVE and IN-PERSON evening workshop in SF- for singles & couples!
Our theme for this event is "S*xual Tantra" We will explore this sensual practice through this lens, adding even more depth and pleasure to it! Drinks (alc and non) and socializing will follow the event~
If you are single and still looking for your soulmate, being educated about Extended 0rgasm, Tantra, and how to have even more pleasure will give you major leverage in attracting someone to you.
If you are in a relationship and wondering how to keep it exciting, becoming educated in having and extending 0rgasm and pleasure can keep you in an ever-increasing Honeymoon period where the attraction and s*xual satisfaction keeps increasing.
0rgasm is a largely misunderstood, misrepresented and unexplored part of our s*xuality and a place that can transform a future or current relationship. Extended 0rgasm is the understanding, exploration and mastery of this powerful experience of pleasure and sensation.
Extended 0rgasm is a critical part of the Davon Method that has been taught by Alicia and Erwan Davon to thousands of students helping them accomplish their true relationship goals. Erwan & Alicia take a unique approach to Tantra, which you will be able to witness first hand at this event.
During this in person evening workshop you learn exactly what 0rgasm is and what it isn't, including the signs of 0rgasm (involuntary contractions and so on), and how that experience can be deepened in length of time, intensity and throughout the whole body!
Erwan and Alicia have 25 years of supporting both singles and couples in this art, and they create an environment inside which everyone can be at ease and comfortable in their introduction to one of life's greatest pleasures, 0rgasm, taken to new heights.
Join us in San Francisco September 22nd and learn all about this exciting practice! You will walk away with a deeper understanding of Tantra and concrete and practical ideas to increase your own and another's pleasure! Drinks (alc and non) and socializing will follow the event~
Things to keep in mind:
Leave plenty of time for travel and parking (we recommend planning for traffic and ~15 minutes for finding a parking space. There are lots of great cafes and restaurants around the Loft so coming early and grabbing a bite is a good idea!)
Our Loft building does not have an elevator; you will be walking up a few flights of stairs to get to our unit.
Doors open at 6:45pm
Event starts at 7:00pm
Doors close by 7:15pm
This event is a great way to find out more about The Davon Method, Erwan & Alicia's 5 keys to a successful relationship life. Their programs will be presented and you will have an opportunity to learn more about how you can sign up for them and take your love life to the next level.
See you there!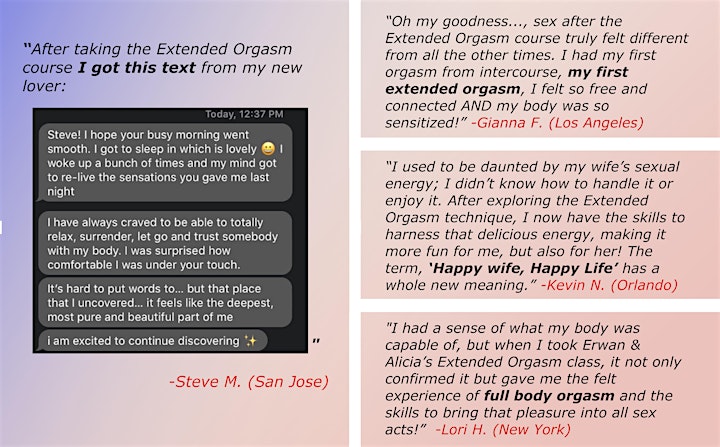 About Erwan & Alicia Davon- Your Facilitators
Erwan & Alicia Davon are longtime teachers based in the SF Bay Area. They developed their signature process, the Davon Method, and have taught it to over 15,000 students in groups, retreats and individual sessions. As a married couple, they have been teaching singles to get into relationship & couples to thrive in relationship for the last 25 years. They have become the go-to place in the San Francisco Bay Area for all things romantic and sexual and are quickly becoming that worldwide through online learning.
Erwan and Alicia have a unique approach to relationship coaching that combines their educational backgrounds in psychology and aspects of Zen Buddhism to provide a holistic method to effectively improve connection with the self and others
Erwan studied psychology and graduated with honors after a difficult childhood and an early introduction to therapeutic work. He went on to live and study in a Zen Monastery, direct a Yoga ashram, and teach personal development at one of the world's largest personal grown organizations. Erwan's passion for helping and teaching people led him to found The Davon Method in 1995, specifically to help people improve their romantic relationships.
Alicia holds a Master's degree in Integral Psychology with a focus on women's romantic and sexual expression. She trained as a therapist before meeting Erwan and led numerous women's groups devoted to female pleasure and life fulfillment from career to relationship. She met Erwan 20 years ago and started teaching with him soon after.
They have spent years perfecting their curriculum and techniques and provide a safe place so you can improve chemistry, connection, communication, and passion in your love life! Get ready to have fun because working with them is a blast!
For more events, follow us here on Eventbrite, and on Instagram/TikTok (@davonmethod)