Mistress Viola teaches an online course for eager newbies looking to enter (or create!) kink community.
cover art by Darrion Bowen.
This is an online class. A recording will be available to all ticket holders for 30 days. This class is for adults 18+ only.
Are you seeking to find kink community, attend more events, and bring kink more fully into your life? Maybe you don't know where to start and you need a lay of the land. Maybe you're nervous and just want to know what on earth to expect.
After many years of fielding questions about the world of BDSM, Viola has put together this class to answer all of your sexy, burning questions.
We will discuss:
Who is who in BDSM? How do you identify, how do others in BDSM identify, what do these classifications mean?
What do you want? What activities are you seeking, how do you ask for and express what you desire? What possibilities can BDSM and kink community hold for folks? What do people do at kink parties? What should I expect?
Where are the kinky peeps? We will discuss online platforms like Fetlife, IRL spaces like sex clubs, kink clubs, dungeons, where to start finding community and exploring. Tips for kinky networking and connecting with folks authentically. If you are having trouble finding community where you are, Viola can give you her best event planner tips on organizing your own local events, kink parties, munches, or meet-ups.
How do I plan and orchestrate a scene? How do you do so in a safe and risk aware manner? We will discuss red flags in kink, no-nos, yes-yeses, how to vet play partners, negotiate play, and set boundaries.
Viola has been organizing kink events, creating community, and coaching newbies for 10 years. There will be opportunities for Q&A on topics raised by attendees. Come with your questions ready!
About the Educator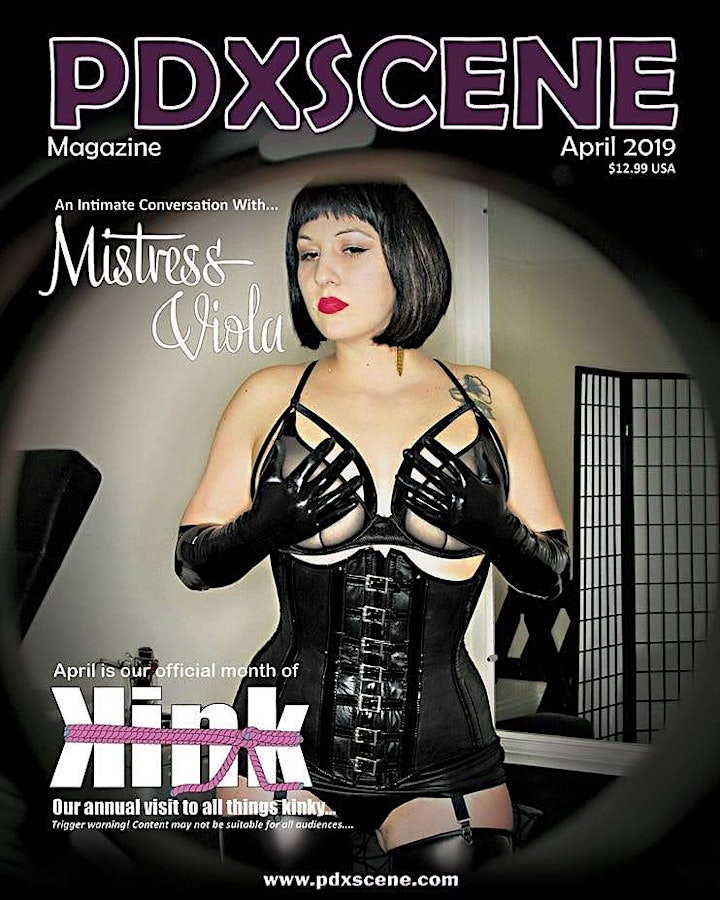 Mistress Viola is a kinky queer BDSM obsessive with 14 years of professional domination under her garters. She has been creating kink community for over 10 years with multiple local events. She is the co-founder of Sub Rosa PDX which launched in 2018 and has hosted over 100 events and classes in the dungeon and online. Her popular monthly play party 50 Shades of STFU at Sanctuary has been fueling femmes and kinky queer energy since 2017. She works with individuals for pro-domination sessions, couple coaching, and mentors new and aspiring dominants. You can read more about Mistress Viola at www.mistressviola.com.