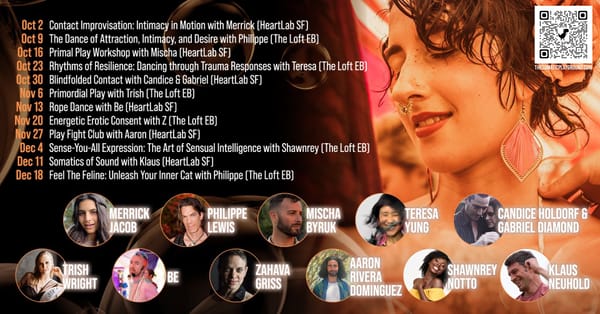 🌟🌟🌟 JOIN THE CLASS 🌟🌟🌟
🎟️ This event offers discounted pricing to SuperBloomer members. SuperBloomer tickets are only available on the Bloom app. Download to access yours! 🎟️
$15 SuperBloomers / $25 presale / $35 at the door
Nov 20 🌟 Energetic Erotic Consent with Z (The Loft EB)
Do I want to share erotic energy with this person?
How does my body let me know?
Learn to listen internally and not override the wisdom of your body. You will learn 3 specific energetic practices to better track and communicate your desires. These 3 practices center and ground you. They increase your awareness of when you may be at capacity to stay present. They support you to give and receive energy from a clear place. We will practice them as a group and one-on-one. We will partner up to distinguish when you want to connect with someone heart to heart and when you want to connect eros to eros. Practice sensing your desire, sharing your truth, listening to others, and not taking it personally.
Benefits:
Ground excess energy
Increase your awareness of your own energy
Distinguish what is and is not your energy
Shift from flight or fight into presence (even at a micro level)
Create space within yourself for your authentic experience, boundaries and desires
Give and receive energy at a scale that feels nourishing
Build more trust internally and with others
More ease and clarity communicating what you want
More self connection when someone says no to you
🌟🌟🌟 OTHER CLASSES 🌟🌟🌟
Oct 2 🌟 Contact Improvisation: Intimacy in Motion with Merrick (HeartLab SF)
https://bl.ooo/m/oct2-contact-improvisation-intimacyinmotion-with-merrick-heart?r=philippelewis891
Oct 9 🌟 The Dance of Attraction, Intimacy, and Desire with Philippe (The Loft EB)
https://bl.ooo/m/oct-9-the-dance-of-attraction-intimacy-and-de?r=philippelewis891
Oct 16 🌟 Primal Play Workshop with Mischa (HeartLab SF)
https://bl.ooo/m/oct-16-primal-play-workshop-with-mischa-heartl?r=philippelewis891
Oct 23 🌟 Rhythms of Resilience: Dancing through Trauma Responses with Teresa Yung (The Loft EB)
https://bl.ooo/m/oct-23-rhythms-of-resilience-dancing-through-t?r=philippelewis891
Oct 30 🌟 Blindfolded Contact with Candice & Gabriel (HeartLab SF)
https://bl.ooo/m/oct-30-blindfolded-contact-with-candice-and-gabri?r=philippelewis891
Nov 6 🌟 Primordial Play with Trish (The Loft EB)
https://bl.ooo/m/nov-6-primordial-play-with-trish-the-loft-eb?r=philippelewis891
Nov 13 🌟 Rope Dance with Be (HeartLab SF)
https://bl.ooo/m/nov-13-rope-dance-with-be-heartlab-sf?r=philippelewis891
Nov 20 🌟 Energetic Erotic Consent with Z (The Loft EB)
https://bl.ooo/m/nov-20-energetic-erotic-consent-with-z-the-lof?r=philippelewis891
Nov 27 🌟 Play Fight Club with Aaron (HeartLab SF)
https://bl.ooo/m/nov-27-play-fight-club-with-aaron-heartlab-sf?r=philippelewis891
Dec 4 🌟 Sense-You-All Expression: The Art of Sensual Intelligence with Shawnrey (The Loft EB)
https://bl.ooo/m/dec-4-sense-you-all-expression-the-art-of-sens?r=philippelewis891
Dec 11 🌟 Somatics of Sound with Klaus (HeartLab SF)
https://bl.ooo/m/dec-11-somatics-of-sound-with-klaus-heartlab-s?r=philippelewis891
Dec 18 🌟 Feel The Feline: Unleash Your Inner Cat with Philippe (The Loft EB)
https://bl.ooo/m/dec-18-feel-the-feline-unleash-your-inner-cat?r=philippelewis891
PLAY PASS FOR ALL CLASSES $240 ($60 discount)
https://www.thesomaticplayground.com/store/products/play12
PLAY PASS FOR 6 CLASSES $135 ($25 discount)
https://www.thesomaticplayground.com/store/products/play6
TICKETS FOR OTHER CLASSES: www.thesomaticplayground.com
No one turned away for lack of funds, text/whatsapp (+14155050786) or email us (thesomaticplayground@exquisite.love) to chat!
🌟🌟🌟 LOCATIONS 🌟🌟🌟
The Loft (EB)
4053 Harlan st. #203, Emeryville CA 94608
(enter code #7739 to get buzzed in)
Park in city hall parking lot close by
HeartLab (SF)
3095 21st St, San Francisco, CA 94110
Classes alternate between East Bay and San Francisco. Please make sure to come to the correct location!
🌟🌟🌟 WHAT IS THE SOMATIC PLAYGROUND? 🌟🌟🌟
🌟 12 classes over 12 Mondays from some of your favorite SoulPlay teachers and more!
🌟 A place for you to learn, embody, and grow somatic, primal, emotional, energetic intelligence
🌟 A space to co-create community with an embodied common language around relating, intimacy, sensuality, and sexuality
🌟 An opportunity to slow down, connect, and move at the pace of trust
🌟 A time to have fun, move, and dance together!
Join us for a series of collaborative exploration at The Somatic Playground! These in-person events will take place on Mondays 7-10pm
Get ready to immerse yourself in a unique experience of connecting with yourself and others in a playful, expressive, & intimate way. Through various somatic exercises and activities, you'll discover new ways to move, connect, let go, and build trust with those around you.
Whether you're a seasoned dancer or have never stepped foot on a dance floor before, this event welcomes everyone. We're cultivating a thoughtful space to explore your body's language, express yourself freely, and connect with like-minded individuals.
In the Somatic Playground, we will cultivate a community of somatic attunement and relational intelligence. Each week, a different facilitator will guide you on a journey of research, play, and practice, honing your abilities to dive into your somatic, emotional, primal, energetic, and relational bodies - learning to listen through touch and taste the pathway of motion. An open jam will follow as a way to continue exploring together sparks and curiosities from class.
So, mark your calendars and come join us at The Somatic Playground for an evening filled with exploration, movement, touch, and connection. Don't miss out on this opportunity to let loose, meet new people, and discover the joy of moving at the rhythm of connection and trust.
Our Community Agreements
As teachers, facilitators, and participants, while we support everyone engaging with sovereignty (making good choices for themselves and others), we also understand that trauma has huge influence on people's behavior and experience, so we are trauma informed in the ways we teach, engage, and/or participate in these classes. We also recognize and continue to learn to be aware of the power dynamics that exist or might arise as we engage, and seek to level the playing field of power whenever possible, and engage with utmost attunement and consideration for each other.
Erotic energy may emerge but is not the goal. Sensual touch is welcome - we are exploring all that is possible in terms of how we relate to each other through sensing. Sexual touch is not a part of this container. Please reach out with any questions.