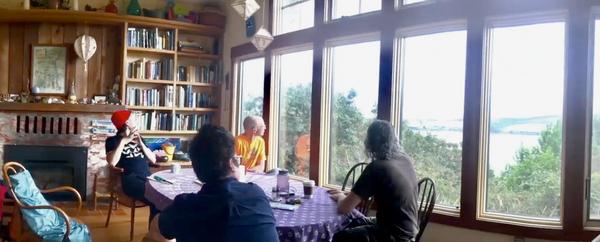 (our home base and previous men's retreat folks)
SELF-DISCOVERY & CAMARADERIE AWAIT YOU!
Join us for a regenerative weekend of empowering and nurturing masculinity work, open to men and folks on the masculine spectrum. Four amazing facilitators will guide you through heart-opening workshops on grief, embodied gratitude, sexuality, sacred connection to nature, and more.
Stunning home base: a tranquil cabin by Pt Reyes
Delicious, nourishing meals
Expert, engaging facilitators
Small group = deeper community
Impactful, inclusive group work
Contemplative time in nature
Empowering workshops
and much more!

(silent meditative walk on the Bear Valley trail)
WHAT CLIENTS AND COLLEAGUES ARE SAYING:
"Come as you are and leave with an overflowing
heart… leaf guided us through a journey of the soul."
-DANIEL MOGLEN PhD
"leaf is an extraordinarily gifted healer with a rare
ability to intervene with creative compassion."
-TIM WILLISON: PhD, MFT, CADC
"… a playful journey of spontaneity, wisdom,
and compassion."
-RYAN WINDSOR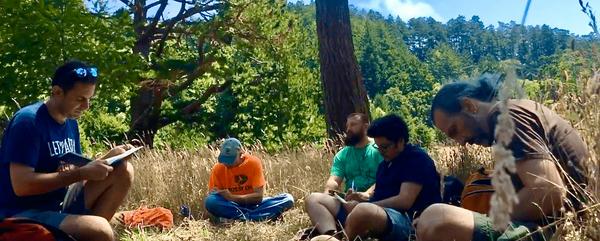 (deep dive in the meadow)
PRICES and DISCOUNTS:
Reserve your spot now for ONLY $700-$800 until July 26!!! (The lower rate is for cots and campers)
This ridiculously low price INCLUDES lodging, meals, and limitless healing ❤️‍🩹
Pay in up to four installments with no extra charge
Prices increase to $750-$850 after midnight, July 25
$50 off for artists, veterans, teachers, first responders, LGBTQ+, BIPOC
Scholarships available for those in need of financial assistance
❣️ EVEN BIGGER DISCOUNT ❣️
BRING A FRIEND and save $100 EACH!
Don't wait on this opportunity to heal your mind and heart!
Limited spaces available (Only 6 left at this posting)
And prices will increase on July 26