Get Ready for an Unforgettable Speed Dating Experience!
Hey SF Bay Area Lesbian/Bi/Trans/Queer Singles,
Are you ready for an extraordinary opportunity to connect with like-minded individuals in a super fun and personalized way? Look no further! Our upcoming Personalized Speed Dating events are designed exclusively for you, and we're eager to have you join us!
🌈 Immerse Yourself in an Unforgettable Experience:
Imagine a dynamic event where barriers to meeting new people are removed, and the thrill of face-to-face interactions takes center stage. Our Personalized Speed Dating events bring an unmatched level of excitement, ensuring that you have an absolute blast throughout the evening. Prepare for an unforgettable time filled with laughter, smiles, and captivating conversations!
👇 How it Works:
We've revolutionized the speed dating game with our simple smartphone technology. By leveraging this cutting-edge approach, we tailor each event to match your preferences and desired connections. Share your ideal date's age range and where they fall on the masculine-feminine expression spectrum, and our smartphone messaging technology will work its magic, creating an experience that goes beyond random encounters.
During the event, you'll engage in exhilarating 5-minute rounds of conversation with potential matches. After each interaction, you can provide valuable feedback on your date, indicating whether they are a friend, a potential for a second date, a valuable business connection, or if there was no immediate connection. Our proprietary smartphone speed-matching technology ensures that your preferences and feedback are carefully considered.
📲 Connect with Your Matches:
The excitement doesn't end when the event does! The next day, you'll receive the contact information for your matches, allowing you to take those promising connections to the next level. Whether you find an amazing date match or establish new friendships, this is your chance to forge meaningful connections with others who are also seeking to connect.
Don't miss out on this fantastic opportunity to meet incredible individuals who share your interests and aspirations. Join us for an evening filled with excitement, laughter, and the potential for meaningful connections. We can't wait to see you there!
🗓 Event Details:
Date: Tuesday, August 29th
Check In: Begins at 6 PM. Please arrive by 6:25 PM.
Event Begins: 6:30 PM
If you have any questions or need further assistance, please don't hesitate to reach out to our friendly team at events@littlegaybook.com or (510) 254 – 9105.
❤ Get ready to embark on an exhilarating journey of discovery and connection at our Personalized Speed Dating event! We look forward to welcoming you with open arms. ❤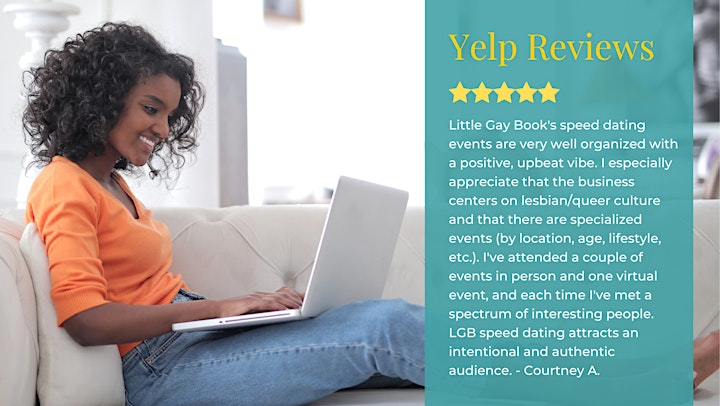 MOTHER IS A NEW WOMEN AND FEMME CENTERED QUEER BAR IN SAN FRANCISCO'S MISSION DISTRICT