Join us for an online weekend workshop for singles & couples ! You will learn key skills and practical tips for a successful romantic life.
Are you single and still looking for your soulmate?
Are you in a relationship and wondering how to keep it exciting?
Spend your weekend with Erwan & Alicia and a group of awesome singles & couples, and learn the ingredients necessary to falling in love AND staying in love.
There are certain leverage points you can learn and then bring into your romantic life to have it go even better than it is now. Leverage points that can mean the difference between a successful and a failed first date, or a soulful, sexy long term relationship, and a "pretty good" or "problematic" one.
The Pleasure Course online is a two-day online seminar that will help anyone – from singles to those in long-term relationships – discover your "relationship blueprint" (read: unconscious patterning) and learn to transcend it. You can then learn to create and sustain an "eternal date" with your partner – a romantic relationship that reaches higher and higher peaks of intimacy, sexual attraction and spiritual union over time.
In the Pleasure Course, you'll:
1. Uncover your personal relationship blueprint and gain freedom from it
2. Learn how the unconscious forces that attract partners to each other are also the source of conflict
3. Make deep contact with yourself and learn who you really are.
4. Gain the understanding and skills needed to succeed in all of the stages of a relationship, from the first date to long-term commitment.
5. Unlock your potential for sexual pleasure and begin exploring Extended 0rgasm, one of our specialties.
The Pleasure Course teaches the skills and knowledge that spark deeper romance and better communication. It is the first few steps on a journey of romantic, spiritual, and sensual growth and development, and offers the basic knowledge and skills you'll need for Erwan and Alicia's more advanced programs.
Join us on this extraordinary journey where you will reset your relationship blueprint, develop the skills necessary for each stage of romance, and create an exceptional sex life and exhilarating love life.
All participants that are not already in an ongoing program with us will receive a follow up coaching session after the course included in your Pleasure Course tuition.
*Price is per person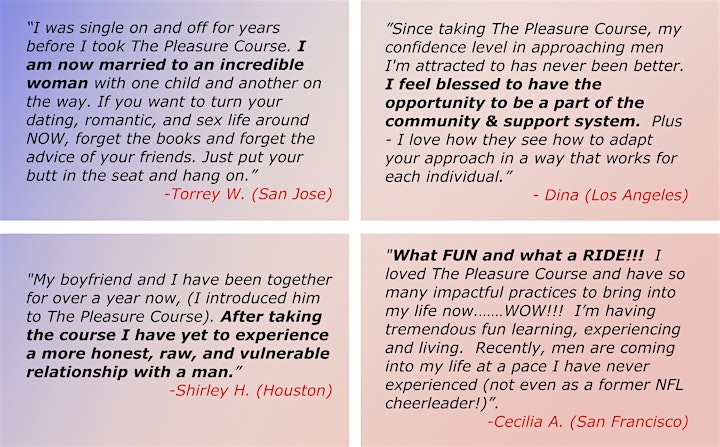 About Erwan & Alicia Davon- Your Facilitators
Erwan & Alicia Davon are longtime teachers based in the SF Bay Area. They developed their signature process, the Davon Method, and have taught it to over 15,000 students in groups, retreats and individual sessions. As a married couple, they have been teaching singles to get into relationship & couples to thrive in relationship for the last 25 years. They have become the go-to place in the San Francisco Bay Area for all things romantic and sexual and are quickly becoming that worldwide through online learning.
Erwan and Alicia have a unique approach to relationship coaching that combines their educational backgrounds in psychology and aspects of Zen Buddhism to provide a holistic method to effectively improve connection with the self and others
Erwan studied psychology and graduated with honors after a difficult childhood and an early introduction to therapeutic work. He went on to live and study in a Zen Monastery, direct a Yoga ashram, and teach personal development at one of the world's largest personal grown organizations. Erwan's passion for helping and teaching people led him to found The Davon Method in 1995, specifically to help people improve their romantic relationships.
Alicia holds a Master's degree in Integral Psychology with a focus on women's romantic and sexual expression. She trained as a therapist before meeting Erwan and led numerous women's groups devoted to female pleasure and life fulfillment from career to relationship. She met Erwan 20 years ago and started teaching with him soon after.
They have spent years perfecting their curriculum and techniques and providing a safe place so you can improve chemistry, connection, communication, and passion in your love life! Get ready to have fun because working with them is a blast!For more events, follow us here on Eventbrite, and on Instagram/TikTok (@davonmethod)