Threshold Unleashed - Folsom Leather Edition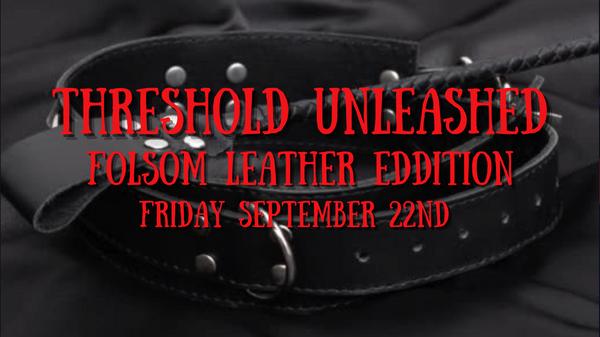 Friday, September 22nd
Start time: 9pm
Performance/Playshop: 9pm-10pm - How to Negotiate a Scene
Last Entry: Midnight
End time: 2am
It's Folsom Friday! Let's get our pre-party on and embrace the allure of leather and unleash your desires! Join us for an unforgettable evening of exploration, connection, and celebration of the BDSM lifestyle. Whether you are an experienced practitioner or a curious newcomer, all are welcome in our space.
ABOUT
Threshold is Mission Control's kinkiest party. It's a place to unleash your dominant side, go deep into submission, explore restraints, role-play, and experiment with kinky toys. Whether you're a BDSM-curious newbie or a veteran with a toy bag who knows how to play, Threshold is a great place for exploration and kinky play. Our community gathers at Mission Control, where Allies (our dues paying members) play for free. 
 We start each event with a playshop, demonstration or performance where iconic fetish personalities come to share their knowledge with us. If the topic of the playshop doesn't tickle your fancy, don't worry, you can arrive after it ends and just enjoy the party. Each event brings a new focus which guests can then explore in our Fun-geon upstairs… and we are expanding the fun into the gazebo and creating a whole new Fun-geon space! 
 Threshold is the place where our community explores the deeply erotic world of BDSM and Dark Tantra. Pleasure and pain. Intense sensations. Power play. As with all Mission Control events, Threshold is built on a foundation of consent and responsible play.
 Threshold is an all inclusive gender space. Any individuals who identifies as a woman, female, man, male, genderqueer, gender fluid, trans masculine, trans feminine, transgender and others with identities beyond the binary sex or gender spectrum are welcome, including all sexualities, sexual orientations, and sexual expressions.
PLAYSHOP:
How to Negotiate a Scene
Have you ever found yourself in a situation where you really wanted to explore a particular kind of sexy play with somebody, but had no idea how to introduce the idea and see if they're interested, much less begin the process of negotiating your scene together? 
Perhaps you've met them multiple times and have a great rapport, but feel your throat close up as soon as the opportunity to ask for what you want presents itself. 
OR
Maybe you want to explore some kinky play with a stranger and need tips and tools for how to do so in a way that feels as safe, respectful, and collaborative as possible. 
Let's negotiate a scene together! 
This playshop will provide you with lots of opportunities to learn and practice skills in real time. Here is some of what we will explore together:
ways to discover and ask for what you wanthow to say yes or no to what someone else wants learning the language of attunementhow to know and communicate your limits what it means to be a responsible, trauma-informed play partner
navigating check-ins and aftercare needs
You'll leave feeling ready to get your freak on, confident in your capacity to be a kick-ass consent and communication conjurer. Come negotiate some play with me!
Autumn Vandiver
Autumn Vandiver is a parent coach by day, a kink enthusiast by night, and works as a certified cuddle party facilitator as often as possible. Over the past twenty-five years she has developed her consent and communication skills through working in a wide variety of industries, as well as reading books, listening to podcasts, taking more classes and workshops than she can comfortably afford, and making lots of common (and plenty of uncommon) mistakes in relationships. Autumn is obsessed with animals and has robust collections of earrings, houseplants, and headbands. 
--------------------------------------------------
Keeping the music flowing in the Gazebo Fun-geon welcome...
DJ Em!
Em has been DJing goth and fetish clubs since 2012. She cut her teeth DJing the dungeon at Bondage-a-Go-Go, and has been a part of the Bay Area kink scene almost two decades.
TICKETS AND RSVP
You must be a Mission Control member, or guest of a member to attend
You must have a PAL (please list your PAL when you RSVP)
Please Support Mission Control with an annual membership! Alliance members get into Threshold and many other events for FREE!
Volunteering is a great way to meet people, and feel involved in the community, plus you get in for free! Volunteers still need a PAL, maybe they want to volunteer too!
DRESS CODE
Embrace your kinkiest fantasies by wearing your finest leather attire or BDSM-themed outfit. Kinky or sexy outfits, lingerie, fetishwear, dungeons blacks are all welcome! We encourage you to dress up but please wear whatever makes you feel comfortable and sexy. No street clothes please. 
LOCATION
Exact location provided on RSVP and Ticket confirmation
BYOB
We don't serve alcohol but you are welcome to bring some with you.
If you are intoxicated you will be asked to leave. 21 and over only. We check ID.
SAFETY
PAL System: To help keep Threshold safe and consensual, Mission Control's PAL System is used. To attend, you MUST arrive & leave with a responsible partner, your "PAL" for the night. There's no need to be a couple, but you are both responsible for each other during the party.  
COVID: Each attendee must show at the door proof of covid vaccination plus a negative result from a same-day rapid test or a lab-based PCR test taken within the previous 72 hours. For at-home tests, please name and date the test result card, and take a photo of the card to present at time of entry.
INCIDENT REPORTING: We seek to create a space that is very safe and welcoming. See our Threshold Consent & Code of Conduct Guidelines. Please reach out to a host ASAP if there are any consent violations, or anyone makes you feel uncomfortable. You can also fill out the incident report form. 
See you there!
Connect with people before the event on the social media links below! You can RSVP, join the event chat, and connect with people:
Fetlife Event: https://fetlife.com/events/1347267
Join our Private Facebook Group: https://www.facebook.com/groups/325499267527804
Mission Control: https://events.missioncontrolsf.org/events/55269