Take some space for YOU to connect w/ YOU in the power of community. It's Pride Month & we're leaning into our authenticity ~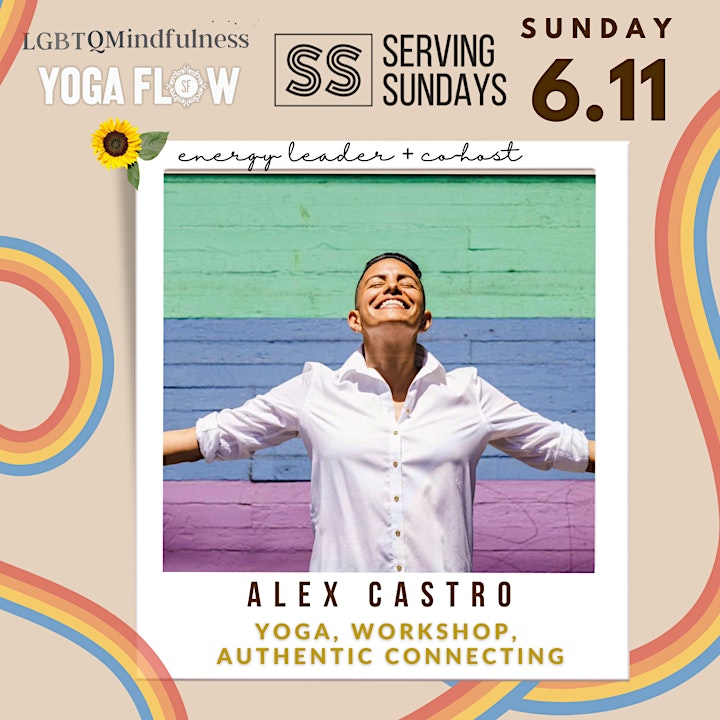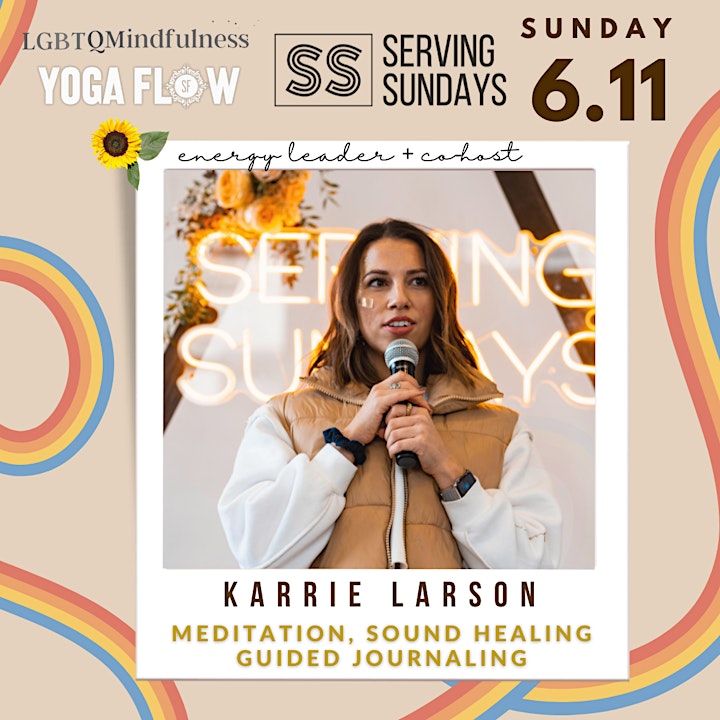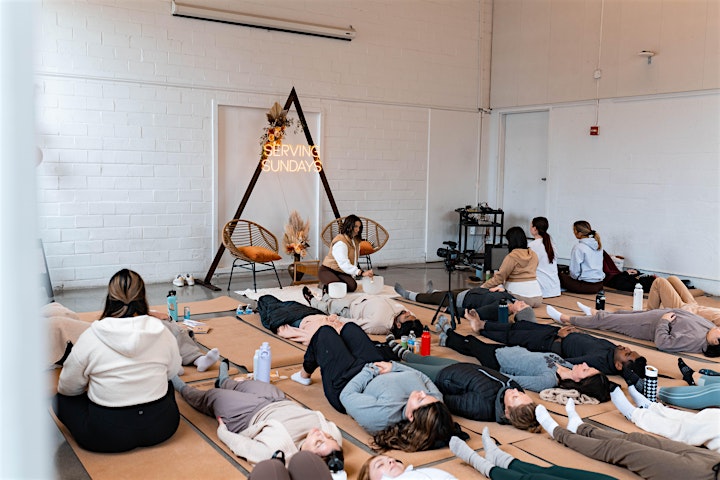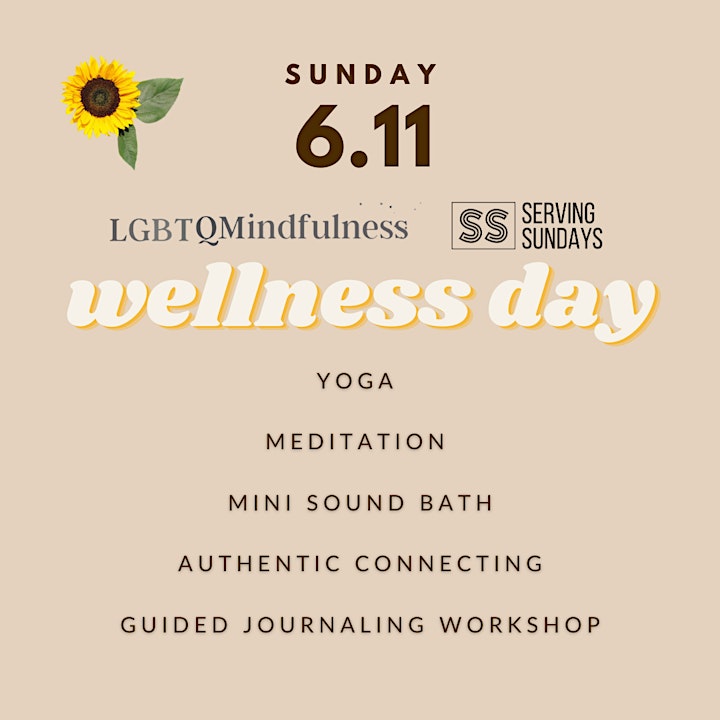 It's PRIDE MONTH... and we're leaning into our authenticity.
Let's disconnect from the noise & reconnect from within in the power of community.
Come as you are. Explore where you're going. Meet new people. Meditate, Move...
All are welcome!!
| Your Ticket Includes |
All event activities (see below)
A personalized journal & other goodies
BOOZE FREE cocktails made by a personal craft cocktail expert hosted by Suntory!
| To Bring & Wear |
Your Serving Sundays branded Journal (**if this is your first event, you will receive one that day)
Neutral-toned activewear (tan, cream, brown, white, grey, light yellow, nudes, golden tones, etc...)
We have yoga mats for your use
***there will be a videographer and photographer capturing our moments together. Neutral attire helps create a calm environment and provides high-quality content to capture our story
~ The Who.
Meet the Energy Movers & Leaders
Karrie Larson - Founder of Serving Sundays - Meditation, Mini Sound Bath, Guided Journaling + Event Co-Host
Alex Castro - Founder of LGBTQMindfulness, Yoga Instructor, Authentic Connection Facilitator
*learn more about these two wellness leaders below
~ The Why.
We've created an approachable wellness day retreat for you , to help you disconnect from the noise and reconnect from within in the power of community
Our Brand concept: Modern-Day Wellness church; using Sunday to reset, reflect, and renew our energy for the day/week/month ahead; connecting & expanding with ourselves & each other; finding guidance and freedom within our wellness journey; taking the planning/thinking out of 'Me Time'
We're helping you "escape" into goodness.
~ The What.
['I Want More Details' ]:
Welcome
Check in, decorate your journal, make new friends ~
Guided Authentic Connecting
40 Minute Yoga FLOW + GLOW [Alex Castro - Founder of LGBTQMindfulnes]
Mindfulness Flow w/ LGBTQMindfulness Founder Alex Castro
Meditation & Mini Sound Bath Healing [Karrie - Founder of Serving Sundays]
Drop into a renewed authentic energy and space together to allow for self-exploration, open-mindedness, and recognizing our starting point for the week ahead
Utilizing crystal sound bowls, rain sticks, and chimes
Authenticity Workshop + Guilded Journaling [Karrie & Alex to Co-Host]
Authenticity - a big topic with many meanings
Together, we'll use the power of journaling to enhance our relationship with our own authenticity and gain new perspectives by learning through other attendee stories
Guided writing session (branded Serving Sundays journal provided) to reset, reflect, and renew our energy together... attendees will have the chance to reflect with others on what they learned in a share circle
Booze Free Craft Cocktails with Suntory + Social Time
Yoga Flow X Serving Sundays X LGBQTMindfulness
MEET THE INSTRUCTORS
Alexandra leads a mindfulness group called LGBTQMindfulness and has started a mindfulness movement in the LGBTQ community. She is a Meditation and Mindfulness Instructor and completed her certification with the Natural Wellness Institute. She continued to deepen her spiritual practice by becoming certified as a Yoga Instructor with Yoga Flow in San Francisco.
She facilitates LGBTQ Mindfulness Retreats Internationally to create a space for the Queer community to reconnect to themselves and their power within. In addition, she conducts Sound Bath Therapy and is an Authentic Connection Facilitator as well. She serves the Queer community, who have been generally underrepresented in the mindfulness space, offering a safe space to transform and connect. Her purpose is to incorporate mindfulness into the LGBTQ community and help individuals live a more fulfilled life by connecting deeply with who they are and enhancing their mental wellness through mindfulness and connection. Follow her to find out about events and experiences she is creating in the community: @LGBTQMINDFULNESS
Karrie is a California born, Wisconsin raised multi-hyphenate living in San Francisco. After her involvement with pro NBA/NFL dance, including 4 pro years with the Timberwolves and Golden State Warriors and 5+ years coaching dancers to their full potential, she retired that life to start her own mental wellness company, Serving Sundays.
Karrie feels called to help people find their authentic spark through wellness retreats and experiences that help you dive deeper into your everyday thoughts, enhance your relationship with yourself, and build an intentional community & life as a result. Meditation, sound healing, breathwork, guest speakers, yoga/stretch, guided writing and virtual workshops are a few of the modalities Serving Sundays uses.